Where Do You Keep Your Wellies?
/
August 8th, 2013
/
There are currently 0 comments
"Many suburban American houses have a mud room, a casual, generally secondary entryway intended as an area to remove and store footwear, outerwear, and wet clothing before entering the main house. As well as providing storage space, a mud room serves to increase the cleanliness of a house."
Many home-owners (particularly across the pond) choose to create a mud room to store wellies, boots, jackets, hats and scarf's and give their families somewhere to take their boots off before they head into the main area of the house. This helps minimise the amount of mud that enters the living areas and ensures all members of the family have somewhere to put their outerwear.
Mud rooms can be as simple or as stylised as you like and don't have to be expensive. Why not get creative? Wooden crates can be used to create storage for shoes while below wooden planks are arranged to look like a tree that jackets and hats can be hung from. Shelving adds an extra dimension and provides additional storage space while a bench gives the family somewhere to sit while removing their shoes.
Check out this collection of beautiful mud rooms for inspiration: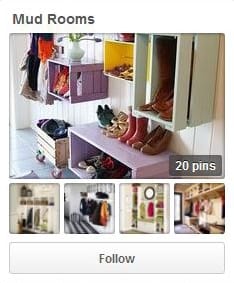 See these and more of our favourite Mud Rooms on our Pinterest board.
Photo credits: Our House, Blue is Bleu and Jones Design Company.